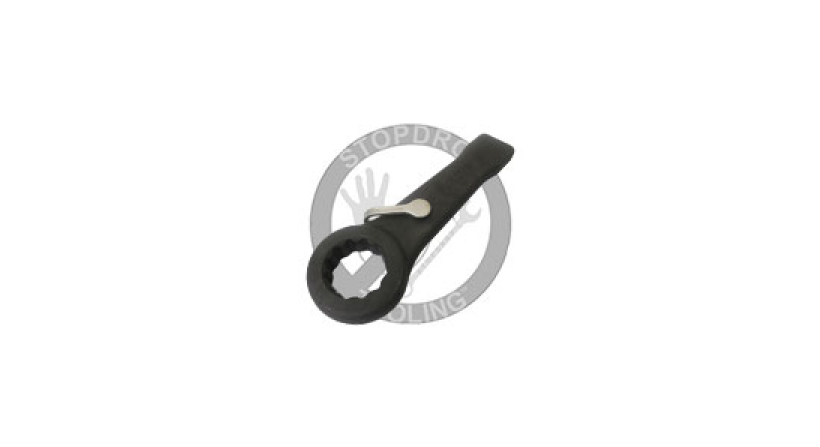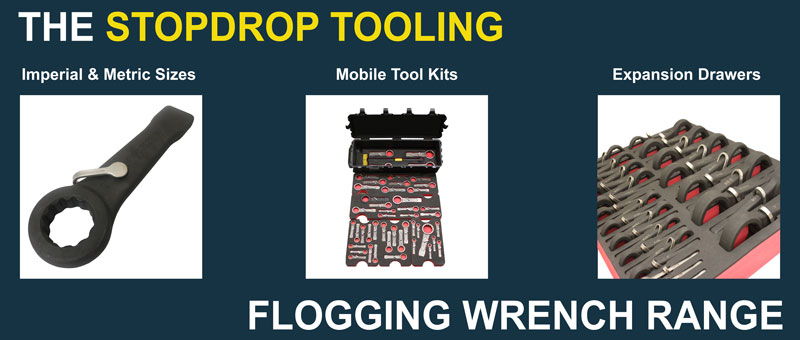 The Stopdrop Tooling Flogging Wrenches for 'Working At Height' are specialised short, broad wrenches with a block end for use with a hammer, enabling forceful striking. Flogging Wrenches are most commonly used with large fasteners, the nut is hand tightened then further tightened with use of the Flogging Wrench. Flogging Wrenches can also be used to release large or stuck nuts and bolts when there is not enough room to use a large wrench.
Stopdrop Tooling Flogging Wrenches have been specifically designed for safe 'Working At Height'. The heavy duty shackle attachment points are located near the head of the wrench away from the block end as to not interfere with strikes, and each wrench is engraved with the individual size and part number.
Our Mobile Flogging Wrench tool kit for Working At Height have been made for work projects requiring lots of different sized Flogging Wrenches. It comes in a waterproof, crush proof and dust proof 1740 Pelican Case featuring two double-wide handles, two integrated automatic pressure equalization valves, stainless steel hardware and padlock protector, easy open double throw latches, wide track polyurethane wheels with nylon hubs and tool control foam.
Expansion Drawers can be fitted into any vacant drawer in our static Tool Kits. The Flogging Wrench Expansion drawer for 'Working At Height' is available in Imperial and/or Metric and can be customised to include only the sizes you need.
(UK) +44 (0)1924 465 270
(USA) +1 281 492 0304
or via email: info@stopdroptooling.com
For more information on all of these products or to request a quote please send an enquiry through the website via any Flogging Wrench product page or contact us on: